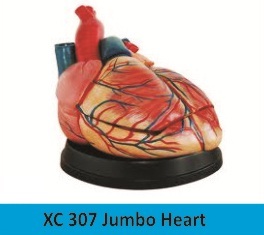 Product Description
Jumbo Heart Model
Specification
Our range of Jumbo Heart Model XC-307 has real external features as well as internal structure of a fully developed heart. It demonstrates the relation of heart with its blood vessels. With its help medicinal practitioners all over the world are able to have a clearer conception of the routes of the systemic and pulmonary circulation. This model of heart is dissectible into 3 parts and is 4 times enlarged for a detailed inspection.
Features:
Made of quality PVC plastic.

Real and apparent anatomy.

Flawless make.