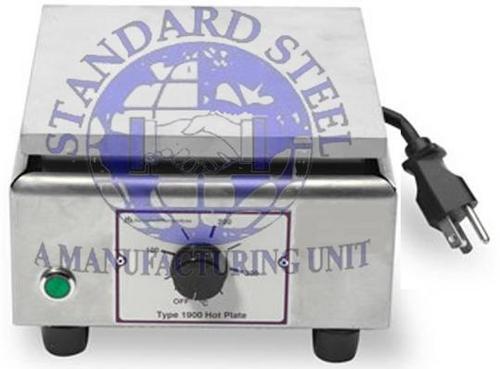 Laboratory Hot Plate
Product Code : S.S.418
Product Description
Laboratory Hot Plate
Specification
Laboratory Hot Plates Are Available In Round And Rectangular Shapes. Body Is Fabricated Out Of Thick Mild Steel Duly Finished In Stoving Enamel Paint. The Hot Plate Made Of Cast Iron, Nicely & Precisely Machined Y Smoothed Duly Finished In Heat Resistant Black Paint Is Firmly Mounted On Body. Heavy Duty Heating Elements Are Securely Layer Under The Plate To Operate On 220V AC 50 Hz Signal. Temp. Is Controlled By A Three-Heat Rotary Switch Along With An Indicator Lamp For Mains And Cord & Plug.
Features
Round hot plates
Hot plate round single 8" dia.
Hot plate round double 8" dia.
Optional Accessories
Sunvic energy regulator.
Digital temp. indicator-cum-controller.
Rectangular Hot Plate
12"x10" inch
16x10 inch
18x12 inch
24x18 inch