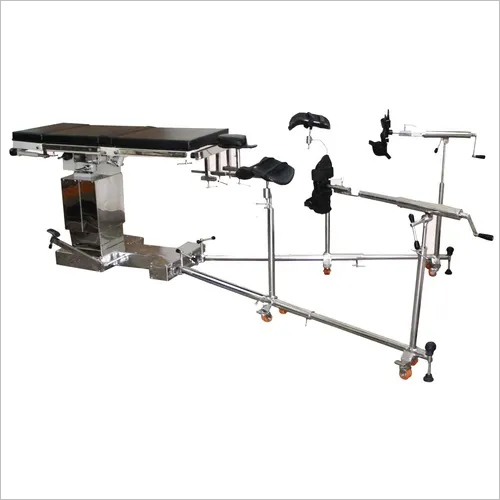 Product Description
Hydraulic C ARM orthopedic OT table
Owing to our vast experience, we have been successful in catering to the requirements of our esteemed clients by supplying, manufacturing and exporting superior quality Orthopedic Table. Offered tables are used in various hospitals, clinics, medical care centers and many more related places. These tables are equipped with required instruments that are needed in orthopedic department. Our manufactured Orthopedic Table has separate head and leg section which can be easily interchanged.
Specification
Radio translucent top in four section for use of C arm image intensifier.
Compatible for orthopedic attachments.
Durable heavy duty leak proof hydraulic pump with four pillars.
Eccentric top and hydraulic chamber adjusted at one side of base for maximum use of C ARM image intensifier.
Inter changeable head and leg section.
Most useful for orthopedic surgery.
Specially designed for intra operative X ray & C arm image intensifier.
X ray translucent removable pelvis rest with special arrangement for orthopedic operation.
Padded orthopedic knee crutches provides support to legs of patient.
Two traction device sliding support with ball joints allowing flxion & rotations of foot with traction shoes.
Heavy duty smooth gear mechanism to avail all operating positions.
Changeable oil valve for up & down movement of hydraulic pump.
One radio translucent hand board and one hand rest with S.S. top for transfusion.
Provided with hand traction attachment.